So schnell kann es gehen! Es ist schon der 29.1. und den Jänner können wir getrost abhaken. Dabei haben wir doch erst Silvester gefeiert, oder? Wo ist denn dieser Monat schon wieder hin???? Und da ja bis zum 31.1. nicht mehr allzu lange Zeit ist, freue ich mich ganz besonders auf Cory! Wie jedes Monat gibt es einen lieben Menschen, der einen Beitrag für mich schreibt. Heute präsentiere ich euch Cory's Rice Crispy Treats Chocolate ;)
Aber wer ist Cory? Er ist ein waschechter Amerikaner und mit meiner Freundin verheiratet. Seit ca. 1 Jahr wohnt er in Österreich. Ich kann mir vorstellen, dass ihn ab und zu das Heimweh packen wird, aber seine Frau und ihre Family kochen gerne mal etwas richtig amerikanisches und schon sieht die Welt wieder anders aus ;)
Daher habe ich ihn gebeten, mir seine Lieblingsnascherei zu verraten und prompt bekam ich sein Rezept mit Foto! Und damit es wirklich richtig original ist, ist sein Beitrag natürlich in Englisch! Viel Spaß beim Lesen und Nachmachen ;) Vorhang auf für unseren Mr. Amerika!
I can't tell you when the first time I had it. Nor can I recall anytime that my mother might have made it. What I can say is that it has been a staple in the minds of countless children for generations. I suspect it will continue to be for generations to come. Mildred Day is credited as the inventor of

the "Rice Crispy Treat." In the 1930's she made this now American classic to fund raise for "The Camp Fire Girls."

Word spread and shortly after this Kellogg's

Co. started printing the Recipe on all their boxes of Rice Crispy Cereal.
Like Peanut-butter and Jelly sandwiches it brought joy to the mothers who made them and the children who ate them. Throughout the evolution of the "Rice Crispy Treat" there have been changes. Ones with thick layers of chocolate, others with M&M. Even Kellogg's Co., which had created the cereal that made this treat possible, has now made a cereal called "Rice Crispy Treats Cereal." Not to mention their own specially branded version of this American classic. It continues to be reshaped, reinvented in new and creative ways.
You could most commonly find them at your school fundraisers and or charity events. This combined with the simplicity of its craft is why I count it as being one of my all-time favorite American treats. For the joy of food is and shall always be one of the most rewarding gifts.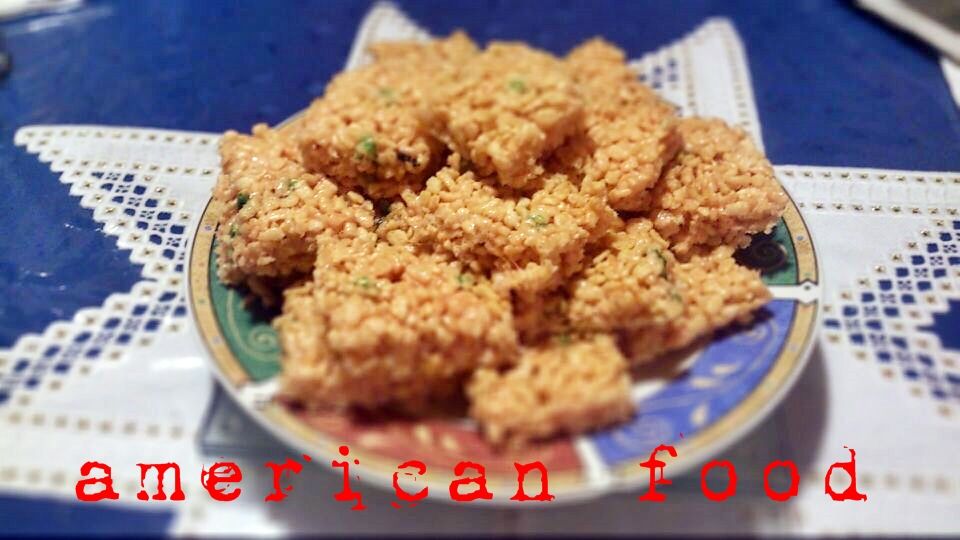 INGREDIENTS
3 tablespoons butter od margarine
1 package (10 oz., about 40) regular marshmallows OR 4 cups miniature marshmallows
6 cups (Kellogs) Rice Krispies cereal
DIRECTIONS
In large saucepan melt butter over low heat. Add marshmallows and stir until completely melted. Remove from heat. Add Kellogg's Rice Krispies cereal. Stir until well coated. Using buttered spatula or wax paper evenly press mixture into 13x9x2-inch pan coated with cooking spray. Cool. Cut into 2-inch squares. Best if served the same day.
***
Ich hoffe, euch hat der kleine Ausflug in die USA gefallen!!! Wenn ihr mehr über Real American Food sehen bzw lesen wollt, dann sagt mir das! ;)

Liebe Grüße, Manu